Welcome to us at Lauvstuas Kennel and the owners Anne-Lise and Eivind Holte.

Lauvstuas kennel was founded in 1995, but the farm Lauvstua where the kennel prefix descends from, was built as far back as 1855, and is beautifully situated near the Gillsvannet, 6 km from the city centre of Kristiansand. The farm has been in the family since Eivinds grandfather bought it in 1917. We took over the farm together with Eivinds sisters and brother in 1974, but didn't move here until 1983. Then we had built a new house and was busy restauring one of the older houses. Something that turned out to be a huge job, taking years to finish, maintaining the soul of the house.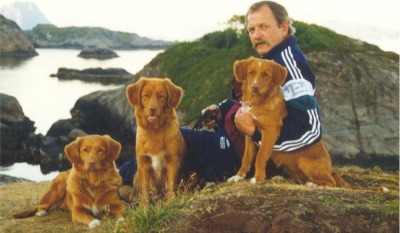 Eivind is working at sea, and is at present employed at Anders Utkilens as a Chief Engineer on "Havstraum".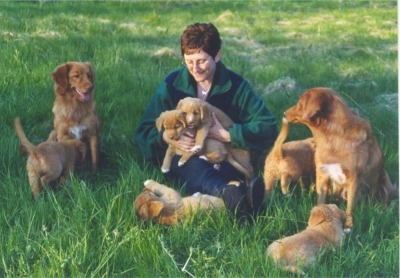 Anne-Lise is born and raised on a farm in Nord-Trøndelag (in the middle of Norway) and moved to Kristiansand in 1973. She works in Jordskifteverket, and has done so for over 20 years. The interest for dogs have always been very large, and when she finished her job as a radio telegraphist in August 1977, the first labrador puppy entered the house 3 months later.
And that was the beginning of our dog life:
Our first labrador was named Jåttålands Maico, a true rascal and very active, but most of all a wonderful companion living with us for almost 12 years. In 1985 we agreed to buy another dog, and came over a photograph of a new retriever that had arrived in Denmark, and that was our first aquintance with the toller. Through family in the United States, we got hold of more information, but since the breed was so unknown and difficult to get hold of, we bought a new labrador insted; Brattbos Robinson. But on a show with the labrador in January 1987, Eivind was going all wild, as he had seen two tollers...

In 1991, Robin had been our "single dog" for 2 years, and the time had come to expand again, and now we started checking for the possibilties of a toller puppy. Anne-Lise went to the Norwegian Winner show only to check out the tollers, and we also visited Unni Solberg (kennel Sunlit) to see her dogs, and now we were sure, we should have a toller!

We got in touch with Hilde Brokjøp, expecting puppies after Red-Tollers Beechey and NUCH Flyingtollers Teddy and 27. March 1992 they were born; 7 bitches and 3 dogs.
One of the bitches came to Lauvstua and was given the name Anya Acadia Ayr.
Anya became our foundation bitch at Lauvstuas kennel.